A glimpse of History : The Shophouses in Singapore Back
Chinese Style Shophouse - circa1880-1900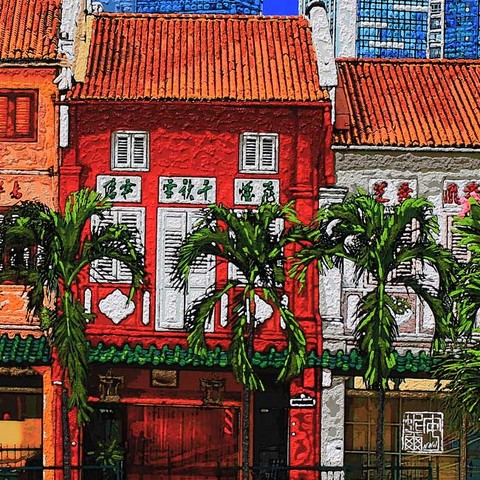 The earliest kind of shophouse embellishment involved mainly traditional Chinese decorative elements. It tooks the form of stucco reliefs and painted decorative panels depicting traditional themes and auspicious characters – flowers, fruits, birds, acts of filial piety, scenes from folk tales, literature and Chinese opera.
Chinese style canopy roof over the verandah were another popular feature and they were typically surmounted by a decorative frieze comprising a mosaic of coloured ceramic shards cemented, known as "chien mien", meaning literally "to cut and paste". Source : Book of J.Davison "Singapore Shophouse".
Chinese Baroque Style Shophouse - 1895-1910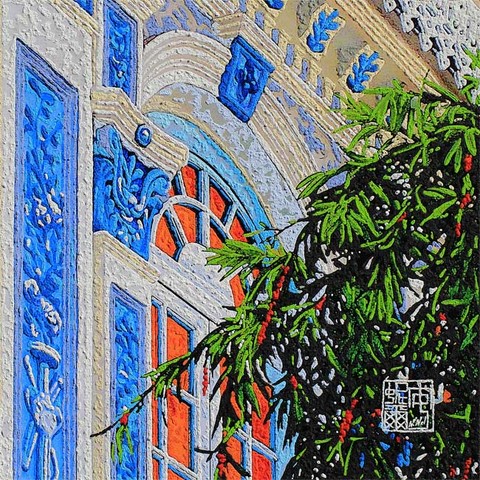 By the turn of the 19th century these Chinese decorative features will be superseded by European Classical elements.
What has come to be known as the "Chinese Baroque shophouse", represents one of the high water marks of shophouse architecture.
European influences first begin to make an appearance in the shophouse in the form of Classical details lifted from colonial architecture, Doric pilaster at the ground floor level, Ionic pilaster for the floor above and Corinthian pilaster for the upper storey. This basic configuration was rapidly developed, reinvented by local Singaporean architects.
The end result was a very singular style of architecture. The spirit of inventiveness, the richness of embellishments and the reinterpretation of the Classical repertoire is quintessentially Baroque, so that we can refer to this style of architecture as Chinese Baroque. Source : Book of J.Davison "Singapore Shophouse".
Rococo Style Shophouse - 1916-1929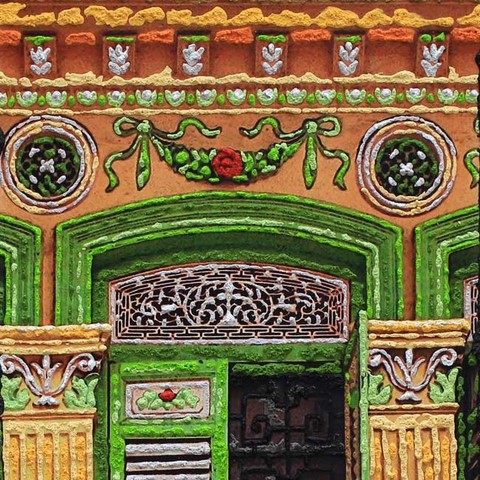 It wasn't long before the shophouse façade literally erupted into a dazzling display of surface ornamentation.
Fluted pilasters surmonted by Corinthian capitals divided up the façade into bays, while elaborate architraves framed the window openings.
The Classical repertoire gave local artisans plenty of scope for their creative imaginings. Swags and garlands, festoons and medallions, egg-and-dart and acanthus leaves were all joyfully seized upon and reproduced, the general idea being to cover every square inch of the façade with as much ornamentation as possible. It was like a mixture of coral, seaweed, scallop-shells and stylized foliage.
The Classical influence morphed into a kind of "wedding cake" style of architecture that put even the Baroque style in the shade. Ultimately Rococo is probably the more appropriate term. Source : Book of J.Davison "Singapore Shophouse".
1920s Chinoiserie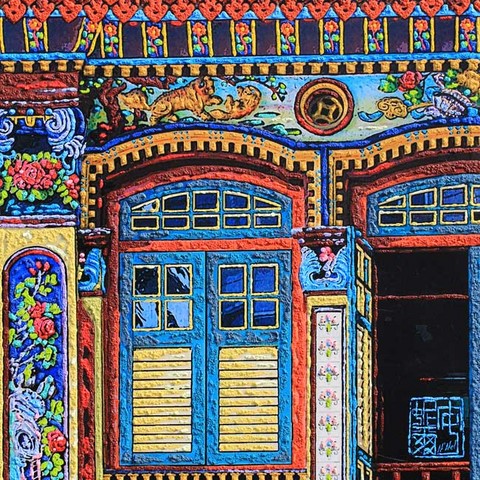 This era, characterised by this high interest in surface ornamentation will end in apotheosis with the Rococo Chinoiserie.
In the 1920s there was a revival of enthusiasm for traditional Chinese imagery with shophouse façades being almost overwhelmed in some instances by a profusion of animal and plant motifs. As an ensemble, this riot of surface ornamentation was quite extraordinary. These Chinese decorative elements include flowers, vases with peonies, birds, cranes, peacocks, bats, dragons, phoenixes, the 12 animals of the Chinese zodiac, each with its own auspicious significance.
The Rococo style remained in vogue until the end of the 1920s, at which point in time it began to be overtaken by more Modern influences.
The rise of suburbs between the wars saw the introduction of a more subdued Rococo style, which at times bordered on the Neo-Classical. Source : Book of J.Davison "Singapore Shophouse".
Blair Plain Refined Rococo Style - 1920s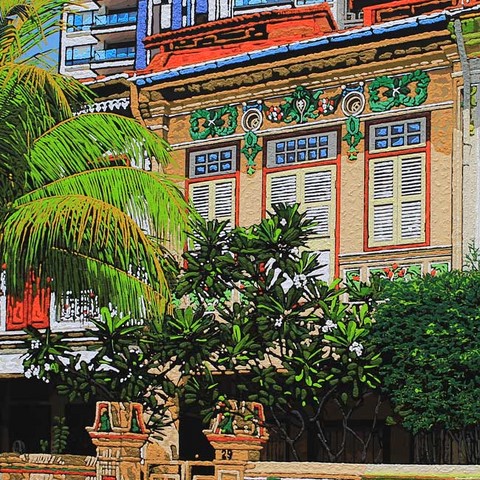 In the interwar years, there was one small area that lent itself to residential development. That was the neighborhood known today as Blair Plain – Spottiswoode Park, Everton Road and Blair Road.
Most of the houses on Blair Plain date from the early 1920s. Together they constitute some fine example of the more refined Rococo townhouse style. Source : Book of J.Davison "Singapore Shophouse".
East Coast Peranakan Style - 1920-1935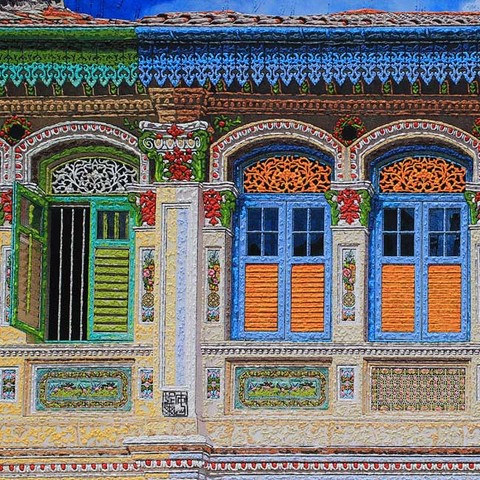 There is one place, where you can find Rococo style shophouses continuing to be built well into the 1930s is on the East Coast.
The enclave of streets laid out between Joo Chiat Road and Still Road (Koon Seng Road, Everitt Road) contain many fine examples of late 1920s and 1930s terrace houses in a range of contemporary style : Neo-Classical, Peranakan, Rococo with a dash of Chinoiserie. For the most part the style is quieter than the full-on Rococo found in Little India. Source : Book of J.Davison "Singapore Shophouse".